ALLTOP lithium iron phosphate battery solar energy storage systems for solar power system
Hello Guys,
This is Sherry, from Zhongshan Alltop lighting company, a top manufacturer of solar lights and solar energy system more than 12 years.
Now I would like to introduce you our solar energy system sample room, built by solar panel roof.
This house build with solar panel roof which can make electricity to the appliances in the room.
OK, now let me show you working principle of whole solar power system.
Firstly, the solar panel cables connect with inverter through the PV combiner box, and then the DC electricity from solar panel and inverter charge battery, and then DC electricity transfer to AC electricity by inverter, then power on the electricity in room.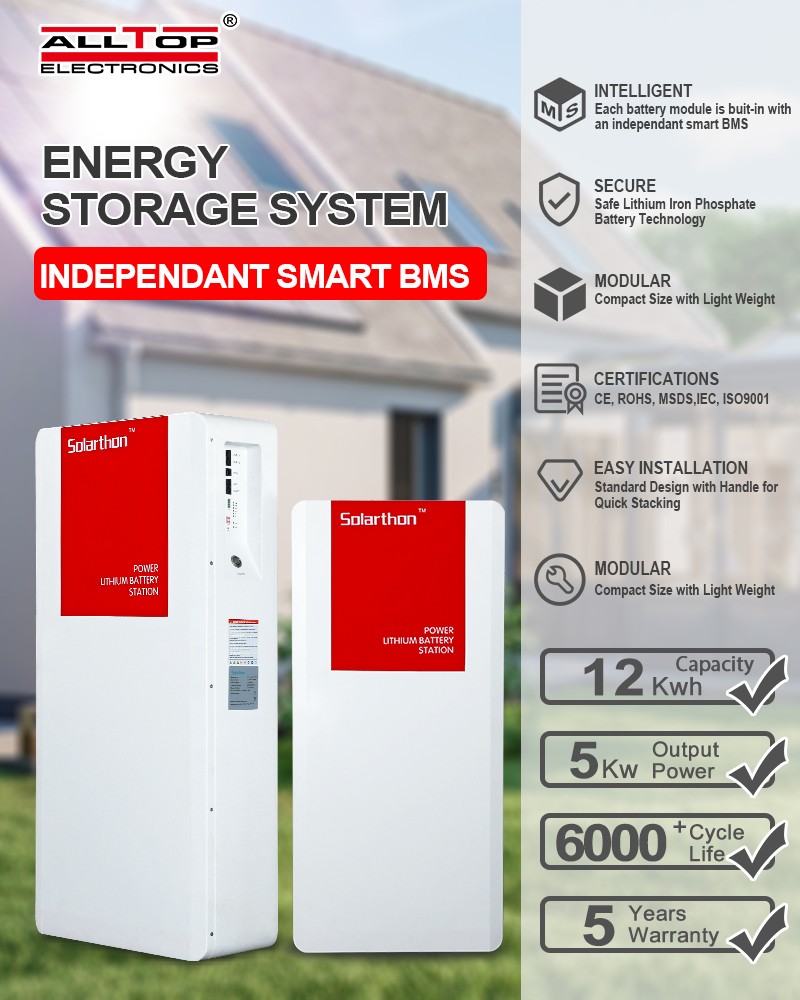 Here we use 5KW inverter and 10kwh lithium battery station. This Lithium battery can charge electric cars which is very necessary for most of families now.
Now we can see this black wire is AC output, we can connect AC machines from here.
Here we already connect with ceiling lights, and TV, refrigerator, fan, air cooler, hair drier and computer.
Ceiling light 300W can work 30h
TV 100W can work 100h
Refrigerator 70W can work 150h
Fan 15W can work 670h
Air cooler 40W can work 250h
Hair drier 1000W can work 10h
Computer 20W can work 500h
Air conditioner 2200W can work 4-5 hours
If we meet continue rainy days and no city electricity , the solar energy system can supply power to our home.
Now solar energy systems are very popular all over the world, especially for countries and regions where electricity and electricity in short supply, this will be the main energy source in the future, if you are interested in this product, welcome to contact me to get inquiry.